What is LARC?
The Laboratory African Regional Collaborative (LARC) is a learning collaborative initiative designed to enhance HIV service delivery by facilitating multidisciplinary teamwork in health facilities using the continuous quality improvement (CQI) approach in PEPFAR-supported countries. The program's purpose is two-fold:
To strengthen the laboratory-clinic interface across the viral load cascade (below) in order to achieve better patient results (i.e., viral load suppression) using proven CQI methodologies and tools
To improve institutional capacity and effectiveness through training, mentoring, and enhanced inter-cadre collaboration and communication.

Our Guiding Principles
Focus on processes to increase productivity
Focus on the needs of the users
Use data to improve services
Use teams to improve quality
Improve communication
A Health Systems Strengthening Approach
Viral Load Cascade


Our Vision
Continuous Improvement embedded in the DNA of an organization for better patient care

Our Mission
To transform service delivery by creating an improvement culture whereby health facility teams collaborate, communicate, and continuously improve performance.

Our Goal
To implement a facility-based CQI program that is deliverable-focused; results in measurable outcomes; and provides a template for LARC's scalability.
Words of Wisdom From CQI Ninjas
Dr. Talkmore Maruta, Africa CDC

Our Tools
Pre-requisites: 7 On-line Courses from Institute for Healthcare Improvement's Open School (http://www.ihi.org/)

QI 101: Introduction to Health Care Improvement
QI 102: How to Improve with the Model of Improvement
QI 103: Testing and Measuring Changes with PDSA Cycles
QI 104: Integrating data: Run Charts, Control Charts, etc.
QI 105: Leading Quality Improvement
QI 201: Planning for Spread, From Local Improvement to System-wide Change
L 101: Introduction to Health Care Leadership
LARC Implementation Process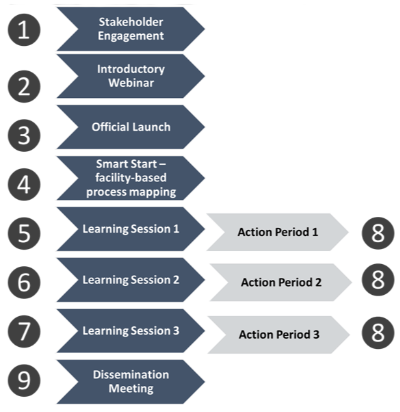 LARC Implementations
LARC 3.0 is testing a scalable model for implementation of large-scale improvement initiatives.
Learn More